Will Trump talk to Mueller?
President Trump said again Wednesday that there was no collusion between his campaign and Russia during the 2016 presidential election, but he also cast doubt over whether he'll speak to the special counsel. National political reporter for The Hill Cate Martel joins CBSN to discuss what this might mean for the investigation.
Read the rest of this entry »
Tags:
CBS
,
Donald Trump
,
Investigation
,
Russia
,
USA
3-wheeled ambulance tackles snowy road in Russia
Witnesses could not help but admire the determination of paramedics in Russia's Komi Republic on Saturday, January 6 as they saw what they thought were paramedics desperately trying to attend a call out, despite their ambulance losing a rear wheel along the way.
Read the rest of this entry »
Tags:
Republic of Komi
,
Russia
The unidentified man had reportedly stolen the vehicle from a local paramilitary driving school, and after destroying a car while navigating through the city's streets, lost control of his ride, ramming into the shop front. The man then walked into the shop and allegedly stole a bottle of wine, before being arrested by local police.
Read the rest of this entry »
Tags:
Meanwhile in Russia
,
Russia
,
Russian vodka
,
Vodka
,
Wine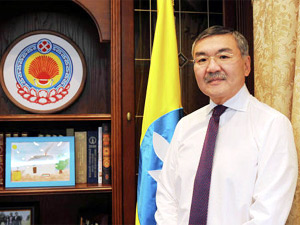 Антикоруппция на Юге России.
Председатель комиссии по противодействию коррупции Алексей Орлов срочно созвал антикоррупционное заседание и внимательно выслушал своих самых лучших и честных подчиненных, об этом сообщает начальник отдела экономики КалмыкияНьюс.
Недавно стало известно, что на Юге России, в Элисте, столице Read the rest of this entry »
Tags:
Corruption
,
Corruption in Russia
,
Elista
,
Kalmykia
,
Republic of Kalmykia
,
Russia
,
Бакинов Петр Дмитриевич
,
Лиджиев Борис Олегович
,
Патрушев Константин Эдуардович
Russia: St Petersburg economic forum weeks before EU votes on extending sanctions on Moscow
President of Russia Vladimir Putin will look to refashion himself as a more reliable partner for the West as Moscow struggles to come in from the cold at its flagship economic forum in Saint Petersburg. Read the rest of this entry »
Tags:
crisis
,
European Commission
,
France 24
,
Jean-Claude Juncker
,
Moscow
,
President of Russia
,
President Putin
,
Reuters
,
Russia
,
Sonia Legg
,
St Petersburg
,
St Petersburg economic forum
,
Ukraine
,
Vladimir Putin